China's investments in Vietnam: Which sectors are the most attractive?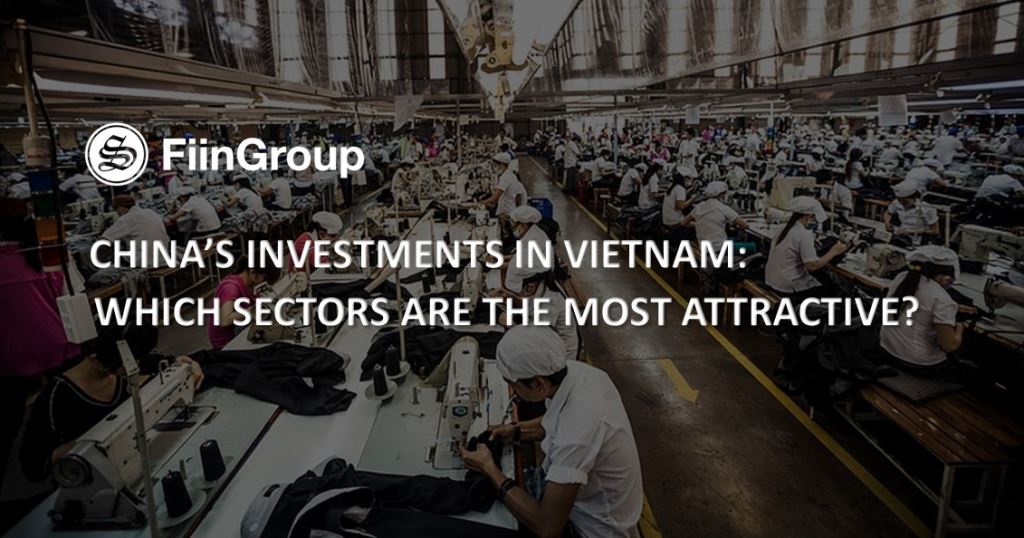 After the US applied 10% import tariff on Chinese goods in September 2018, Mainland's Chinese manufacturers are seeking ways to move out of the country to avoid possible higher tariffs. Their destinations include Vietnam, which is emerging as a manufacturing hub for the world thanks to its open-door policy and numerous free trade agreements that the country engages in. Vietnamese firms are affected to a certain extent, however, not all industries will witness the direct impact of this event.
What are the sectors most attracted by Chinese investors recently?
According to FiinGroup's database, there are nearly 1,400 newly invested businesses by Greater China's investors including from Chinese, Hong Kong and Taiwanese during 2017 – 2018. This number equals 1.5 times of year 2015 – 2016 number, which was 900 companies.
Figure 1. Top industries invested by Great China's investors (2017 – 2018)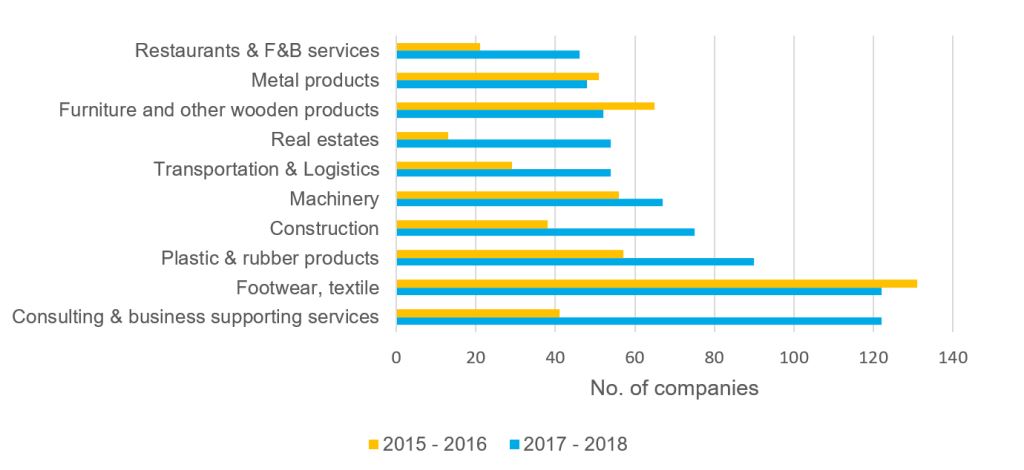 Source: FiinGroup's database
During 2017 – 2018, Chinese significantly enhanced investment into real estate, construction, transportation & logistics, plastic & rubber products and consulting & business supporting services.
Figure 2. Statistics of newly established Chinese companies during 2015 – 2016 and 2017 – 2018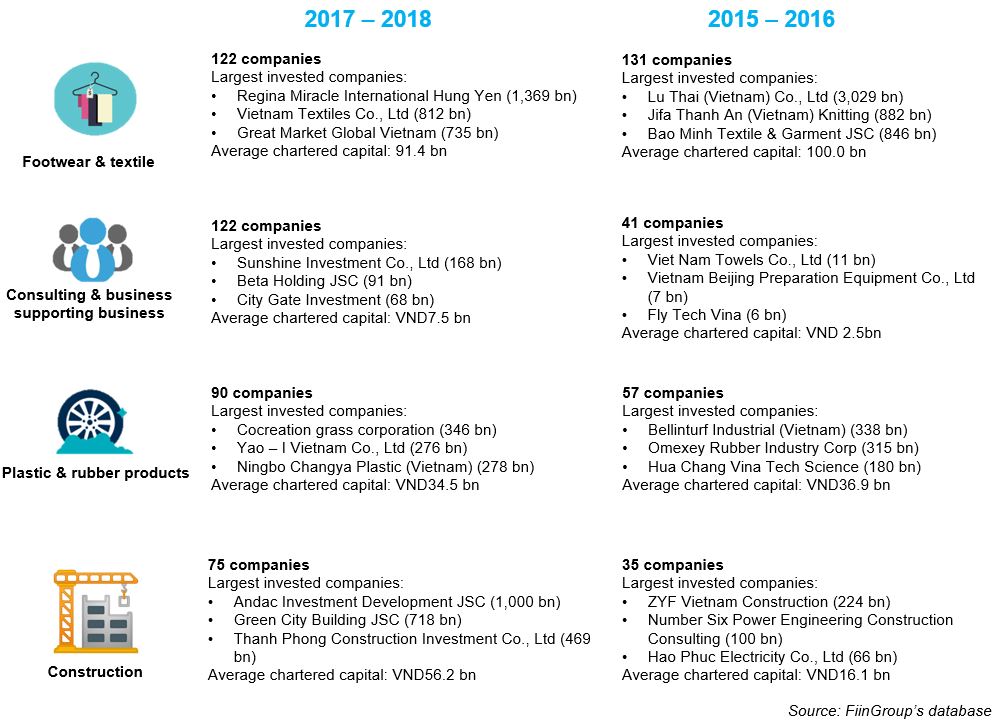 Footwear & textile: China's traditional sector, continued to lead the manufacturing location shifting trend in 2017 – 2018 period. Noticeably, the proportion of small and medium companies grew higher. Since reducing production cost to offset the tax burden is extremely challenging to these manufactures, they are more likely to move their factories. Moreover, due to the strict origin requirements set in CPTPP and other free trade agreements, more upstream manufacturers such as manufacturers of accessories, soles, thread, etc. have also come to Vietnam to support its Chinese clients.

Plastic & Rubber: At the same time, Vietnam has become an ideal location for plastic & rubber manufacturers after China's ban of scrap plastic import. Official data showed tenfold increase in scrap plastic import from 2016 to 2018.

Consulting & business supporting: This sector saw the most drastic increase of both company number and investment scale. These include holding companies whose main businesses are investing financial capital into multiple industries with an aim to earning dividends. Meanwhile, the rest were established to provide business supporting services such as investment advisory service to the expanding Chinese enterprise community.  

Construction: Given the surging number of Chinese companies and factories in Vietnam, more Chinese construction companies have been established. Moreover, as Vietnamese Government started standardizing procedures for public-private partnership (PPP) projects since 2016 and recently raised the minimum investor equity ratio from 15% to 20%, Chinese contractors have been participating in bigger projects such as electricity plants (Hai Duong Electricity Plant), infrastructure projects (Bac Luan II). The significant hike in real estate projects invested by Chinese companies is also one of the underlying reasons.
Figure 3. Industries expected to attract more Chinese investment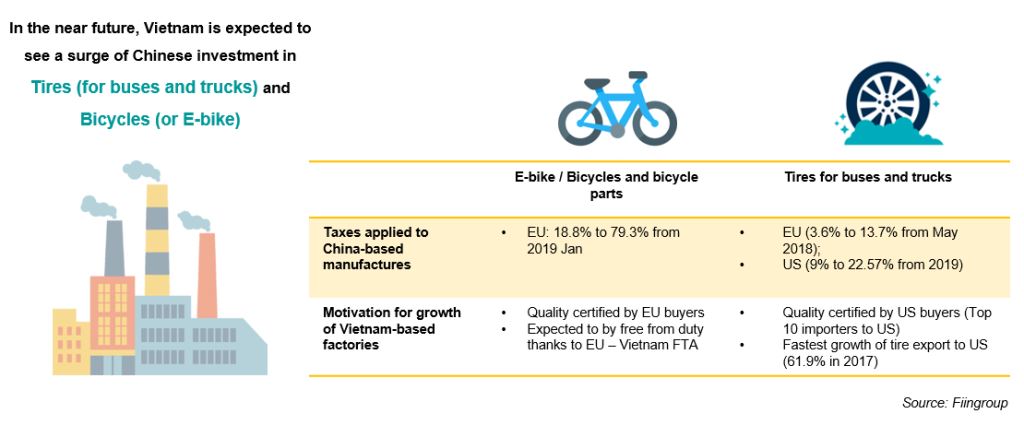 Soon, Vietnam is expected to see a surge of Chinese investment in Tires (for buses and trucks) and Bicycles (or E-bike) business. Recently, Guizhou Tyre established its tire factory in Dong Nai Province with total investment up to USD 214.1 mn.
In terms of value, the FDI from mainland China hiked and reach 723.18 billion VND of newly registered capital in just three months of 2019, equal 60% of 2018's annual number. However, the number may not fully reflect total investment the Mainland as there are many Chinese companies and individuals investing through its subsidiaries located in tax havens British Virgin Islands, Cayman Islands or Hong Kong and Singapore.  
Figure 4. FDI from Mainland China (2017 - 3m 2019)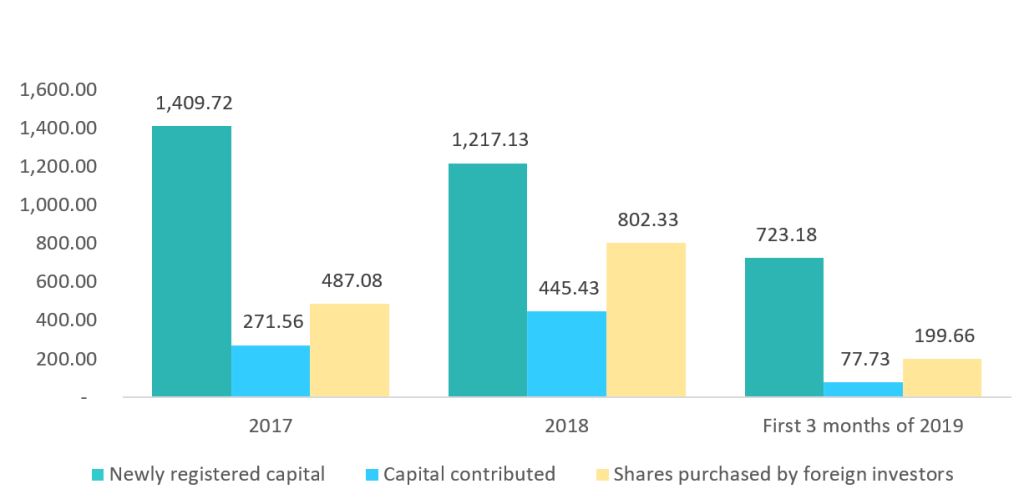 Unit: VND billion
Source: Foreign Investment Agency (FIA)
Risks and Implications to Vietnamese firms
Increasing land rents and labor cost: Since the appearance of many Chinese factories, industrial land rents have been hiking at an incredible rate. In Me Kong Delta region, a place regarded as "textile heaven" in Vietnam, 20% increase in land rent was witnessed. Moreover, labor cost is also rising, causing damage to profitability of other manufacturers. Recently, a South Korean manufacturer decided to shut down its factory in Vietnam, and one of the reasons revealed was the increased worker wage.

More severe scrutiny from importing countries: The most serious obstacle that Vietnamese manufacturers might face is the enhanced inspection of Vietnamese goods by importing countries. Suspicion that Chinese steelmakers forged Vietnam origin by shipping their products through Vietnam resulted in at least 39% tariffs on Vietnamese corrosion resistant and cold-rolled flat steel. Therefore, in order to secure export market, Vietnamese firms should maintain transparent certificate of origin, as well as adjust their supply chains to have higher usage of locally produced parts. Noticeably, foreign traders working with Vietnamese partners are advised to study carefully about the partner's profile, shareholder structure and trading statistics to avoid unwanted economic sanctions.

Increased business opportunities: Vietnamese firms should also actively look for buyers from US and EU and lower production cost by technology to compete with Chinese manufacturers. Upstream enterprises may enjoy higher demand of their parts and raw materials from Chinese companies, who also needs to reduce its China-origin parts to avoid tariffs
This is an article from our series of newsletters which will be prepared by Data Analytics Team of FiinGroup periodically to bring more value to our customers in capturing dynamic beyond the data and credit report services with a view to support better the operation of our clients. We're on a mission to help investors and enterprises grow their businesses and gain competitive advantage with the trusted information and data provided by FiinGroup.
Source: FiinGroup